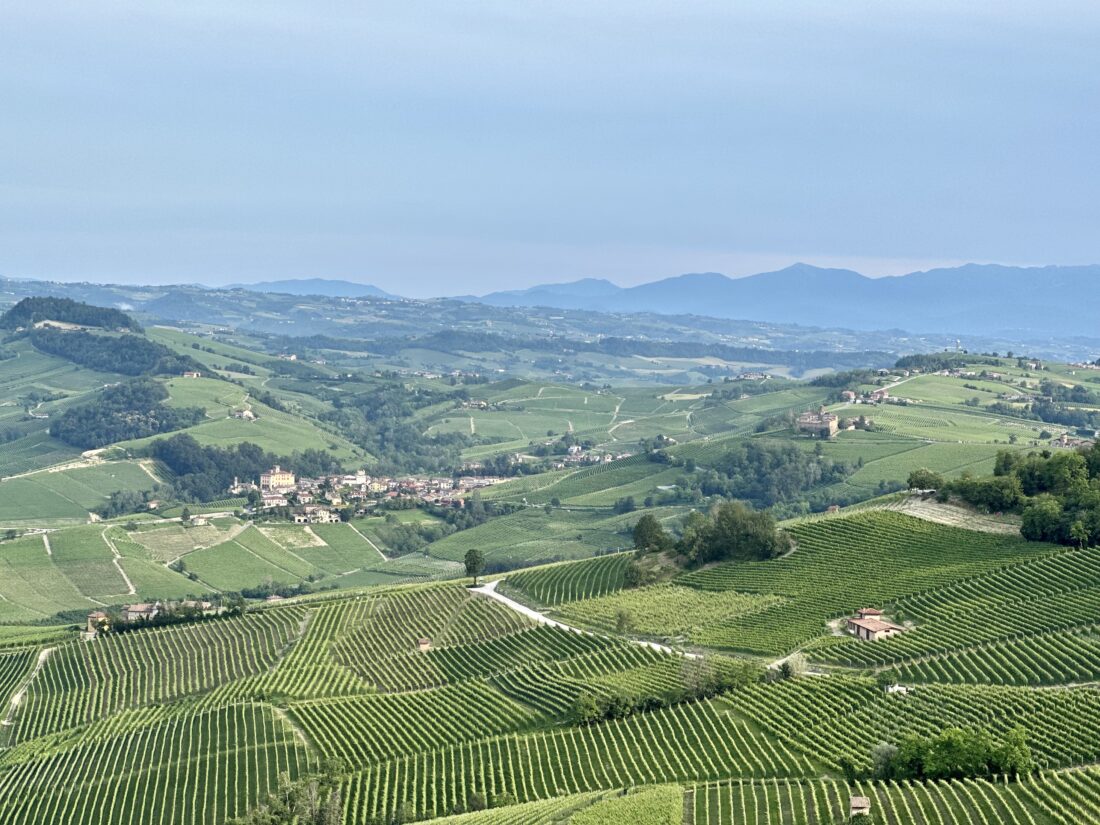 Wine, Truffles, Cooking & Castles
This year is full of Italian delights.  Yippee!  June took my husband and I to wonderful Piemonte (Piedmont) in northwest Italy, our second of four trips to Italy this year.   A region we had never been to before.
Our journey was full of surprises.  Piemonte wine country is stunning.  The land of Barolo, Roero, Barbera, Arneis and Cortese vineyards is beautiful.  Rolling hills covered in vines and hazelnuts trees (another specialty of the region), most hills were topped with a picturesque historic village.  The bell towers of churches dot the countryside.
We visited Torino (Turin) to learn it was the first Italian capital in 1861-1865.  It was the only Royal Palace of Italy built by the House of Savoy in the 16th century.  There we did a castle/cultural/historic/food tour.  The day started at a bakery where we tasted focaccia, tomato pizza and sweets made from hazelnut.  Our next stop, we visited the famous Caffe Mulassano to drink vermouth in the shadow of the Piazza Castello.  Torino is Italy's vermouth capital.  Vermouth for our elevenses and why not?  Lunch was comprised of home cooking delights in a tiny restaurant run by locals.
Dessert was not just dessert – we were taken for a tasting of a flight of dark chocolates and of course, some included hazelnut at the posh chocolatier, Domori.  After some free time, we learned to make gelato, dinner afterwards was more home cooking.  Amusingly, this was the second time we were treated gelato before dinner.  I am pleased to say that Tony & I won the gelato making competition.
Winning at gelato-making probably sounds impressive but I must fess up.  We were one of two couples and our recipe involved eggs whilst the other couples didn't.  Separating an egg was a first for Tony and his technique was mighty impressive so the three judge's thought.
Our group tour could have accommodated up to 12-14 people.  Luckily for us, the only other couple were a joy to travel with.  Originally from England, they now live in Denver, Colorado.   They understand the culture on both sides of the pond as do Tony & I.  Also, they love wine and food as much as Tony and me, so we were a marriage made in Piemonte.  Not often does one come across strangers with such similar sensibilities. Another wonderful surprise for us.
Other discoveries included the beautiful town of Barolo and a walking tour of San Pietro Monterosso in the foothills of the alps where we visited a cheese producer.  Again, we munched on local delights for lunch whilst sitting beside a river which was fed from the Alps.  We ended that day at the Muses Sensory Museum in Savigliano where we learned to make our own perfume.   One early evening was spent truffle hunting where we saw a truffle dog in action. She was a beauty and zeroed in on those truffles effortlessly.  We toured an organic flour mill to learn about the essential quality ingredient to making pasta.  We did so much in a day my head was spinning.
All these activities couched the real reason we were there and that was to cook!  I have wanted to do a cooking trip in Italy for some time, but a virus got in the way.  With covid all but over and done with, I decided to make that dream a reality.  Some firsts for me were making gnocchi, lasagna noodles, pappardelle, stuffed tomatoes, stuffed zucchini flowers and asparagus flan.  Newfound desserts included Zabaione, a kind of a Marsala & Moscato custard, Baci di Dama, traditional hazelnut cake and Kissing Ladies, two hazelnut cookies set together by a layer of dark chocolate.  Because of the look of the latter, we affectionately named are cookies 'hazelnut buttocks'.
And with every wonderful meal included wine pairings of the region.   And sometimes, we went to the winery to taste first only then to be treated to Italian meats, cheeses, grissini, and focaccia.
A decadent week beyond belief shared with lovely Italian locals who eased us not so gently into their way of life.  They cook seasonally, with local meats and cheeses and freshly made pasta.  Immersed in Piemonte, I am now a fan of the region.
Most of the people we met had only lived in Piemonte and I found myself wondering what life would have been like to grow up there in such a warm spirited region replete with views of the stunning alps to the West.
Kudos to our Culture Discovery Vacations tour company for such an expansive and joyful itinerary.  Honourable mentions to Valentina our flamboyant guide, Alessandro who taught us about the wine and hosted us for dinner our last night to feast on his father's delicious homemade pizza. And it wouldn't be right not to mention our outstanding culinary instructors, Marina and Frederica.
When I was a child we studied the history of much of the world in school.  The two places that drew me in like a moth to a flame were Mesopotamia and Italy.  So, in love with everything I learned about Italy, I made it a topic of a story in my Creative Writing Class.  It was entitled Olives, Grapes & Julia.  It was about a young man from a poor family who falls in love with Julia whose family is rich from the vast lands they own and the crops they provide.  Oh, the stories we make up in our heads.
My childhood was an emotionally painful one.   Thankfully I had my writing to deal with the hurt and transport me to faraway places.  My imagination has been a powerful tool for me.  It has allowed me to change the narrative of my life.
According to Psychology Today, 'changing the narrative' of your present and future simultaneously alters the meaning or narrative of our past.  The story we hold of ourselves is continually evolving and changing.  We form our identity by integrating our life experiences into an internalized, evolving story of ourselves which gives a sense of unity and purpose to our lives.
Unfortunately, many people are not strategic about their narrative identity. They aren't conscious of the meaning-making process they instinctively go through in their day-today life. Consequently, they often shape limiting stories based on the emotions of they are experiencing.
As a coach, I have spent a lot of time working to disassemble the limiting beliefs of my clients because they not only hold us back,  they usually aren't true.  A belief is just a thought.  A thought is a thing we give power to.  If we believe, "I can't do that", it becomes a self -fulfilling prophecy.
How is that belief, that thought, that story you are telling yourself serving you?
Now I reframe my past to shift what was a negative experience into a positive one.  My experiences of my past gave me drive, determination, passion, conviction and invoked a deep curiosity within me.  I saw other people living positive lives.  I asked, why not me?  I saw other people go on vacation; I thought why not me?  I read about Italy and thought how could I live a life like that one day?
As I got older and worked on overcoming my past, I honed my mindset by connecting with my core, my spiritual centre. I lived less looking at what was missing in life and realized that through my stories, I have so much.
Travel has been a key tool for me finding joy.  To step into the lives of others even if only for a week, can change our life through a broadened perspective and sense of gratitude.  And isn't that a wonderful thing.  If you haven't been, you just gotta go!
"Italy is a dream that keeps returning for the rest of your life."  – Anna Akhmatova