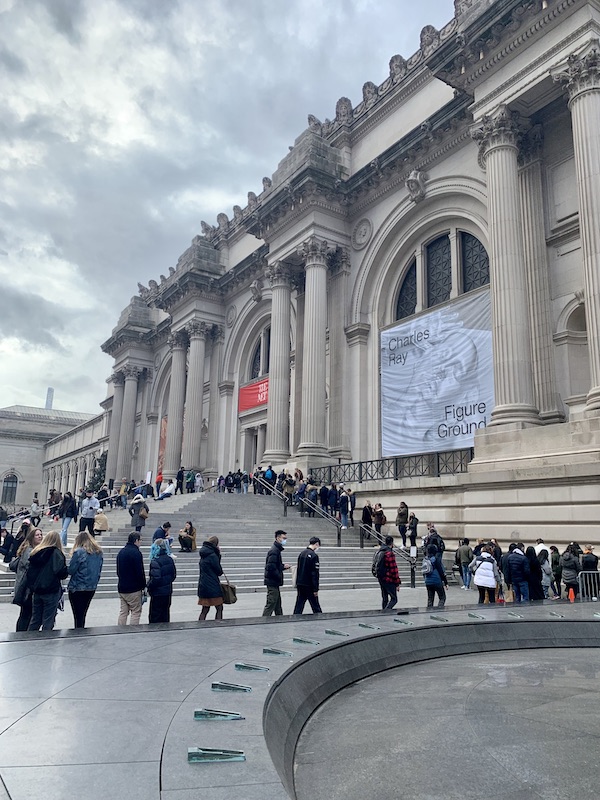 10 Days in the Big Apple
I just got back from New York City and I'm struggling to get things done.  Gosh, I'd forgotten what jetlag feels like!  I watch my cat Frodo saunter over to his food bowl half asleep.  He's been catnapping.  I know how he feels.  Writing is not coming easily today.  However, I am not complaining.  I am thankful that I was able to travel to the Big Apple!
According to a resident friend of ours, NYC has just come back to a sense of normality.  Gratefully, we caught that wave.  Although it is not normal.  One can tell that people suffered greatly here during the pandemic.  There remain high numbers of homeless and mentally ill walking the streets; Uber drivers and specialty storekeepers complaining because the city is dead; with an inordinate amount of pot smoking.  Times Square has become a mecca for cannabis lovers.  Marijuana became legal in New York on March 31, 2021.  It stinks of reefer!
A few days ago, I was sitting on a bench in Central Park.   There, a lovely, elderly, grey-haired couple sitting beside me.  It is a Spring-like day, at 68 degrees Fahrenheit (20 Celsius), it's unusually warm for February. The sky is blue overhead with whisps of cloud here and there.  The trees in the park remain winterlike with no leaves or flowers to be seen, but plenty of people.  The weather changes dramatically everyday with sun, snow, and wind.
I hear the loud noise of a jackhammer working on Central Park South in front of the New York Athletic Club.  Police sirens, ambulance sirens – all around me I can hear the dull roar of traffic.  The constant hum of the New York buzz.   Living on a small island with only 100,000 people I have got used to the quiet.  Here, I am keenly aware of the noise.  At times, NYC is deafening.
The energy is different here.  People are still very worried about catching Covid.  Although a recommendation now, most people continue to wear masks.  Dining indoors has just been reintroduced, yet people continue to eat in restaurants' outdoor venues.  The streets are littered with makeshift restaurant extensions.   Traffic is chaotic.   I understand their perspective.  According to our Greenwich Village Italian Food Tour guide, in the thick of the pandemic, some 3,000 people were dying each day.
The subway is a significant problem.  The homeless have made it their home.  Every day on the news, I hear stories of someone being accosted in the subway.  A woman whose head was bashed by a hammer in the stairway;  people  stabbed or thrown onto the track; the little boy who was punched in the head by a mentally disturbed man in Times Square.
This week the mayor engaged the police to crack down and clear the homeless out of the subway system.  Concerned citizens says it's not a criminal problem.    I learn that 900 hospital beds have been set aside but thousands are lost for the lack of a formal social network in the USA.  Violence is over the top.
In addition to providing our vaccine passports and I.D. when we attend Broadway shows, my purse is opened and put through a metal detector.  It's a sad realty, that theatres need be concerned about people attending with guns and knives.  I suppose if it happens in their schools, then it's bound to happen in the theatre.
There is nowhere that we go without providing our vaccine passports, except for shopping or walking.   The Met, theatres, guided tours, our hotel, and restaurants are asking for our passports.  As a vaccinated person, I appreciate this, although the constant queuing diminishes the tourist experience.
Despite the challenges, it's great to be here once again to visit with friends, appreciate art, culture, food, theatre, and all things urban.  I see a city in recovery, and it makes me smile.  Unexpectedly, everyone we have met expresses how happy they are to see a foreigner in their city.  You may find it interesting to know our plane from Heathrow to JFK was full.
Bizarrely, during our trip, three things happen that rocks my world.  Unbelievably, Putin begins his attack on Ukraine.  Secondly, an old friend of mine is stabbed to death in a suburb of Vancouver at age 66.  Thirdly, I witness the obscure Fox News.
Thankfully, we don't get Fox News where I live.  I know of its reputation from the skits on Saturday Night Live, from American politicians' comments and from the movie Bombshell.  A dramatic film from 2019, it is based upon the accounts of women at Fox News who set out to expose CEO Roger Ailes for sexual harassment.
The talking heads of Fox News I find shocking.  Their rhetoric is clearly a reason why many an American have not been vaccinated or think Putin is a genius or those that wish to free our planet from pollutants are part of a cult.  A friend tells us that there is no news in the America today.  Just opinion.  From my point of view the Murdoch Family should be ashamed of themselves for putting profit above the good of humanity.
By the end of the trip, I'm exhausted.  New York is an energy zapper and is even more so during the tail end of a pandemic.  There is so much for New York to do.  With the homeless comes a poverty problem, a housing problem.  With the divergence of opinions on the news, the country will continue to be the victim of polarity.
I shake my head and consider what life could be like when our Values evolve as quickly as science.
As I board the plane at JFK, I thank New York for her joy of the last ten days.  I wish her well.    My thoughts turn to the Ukraine, the condemnation on Western society.  Out of the frying pan into the fire.  If only there were a 007.