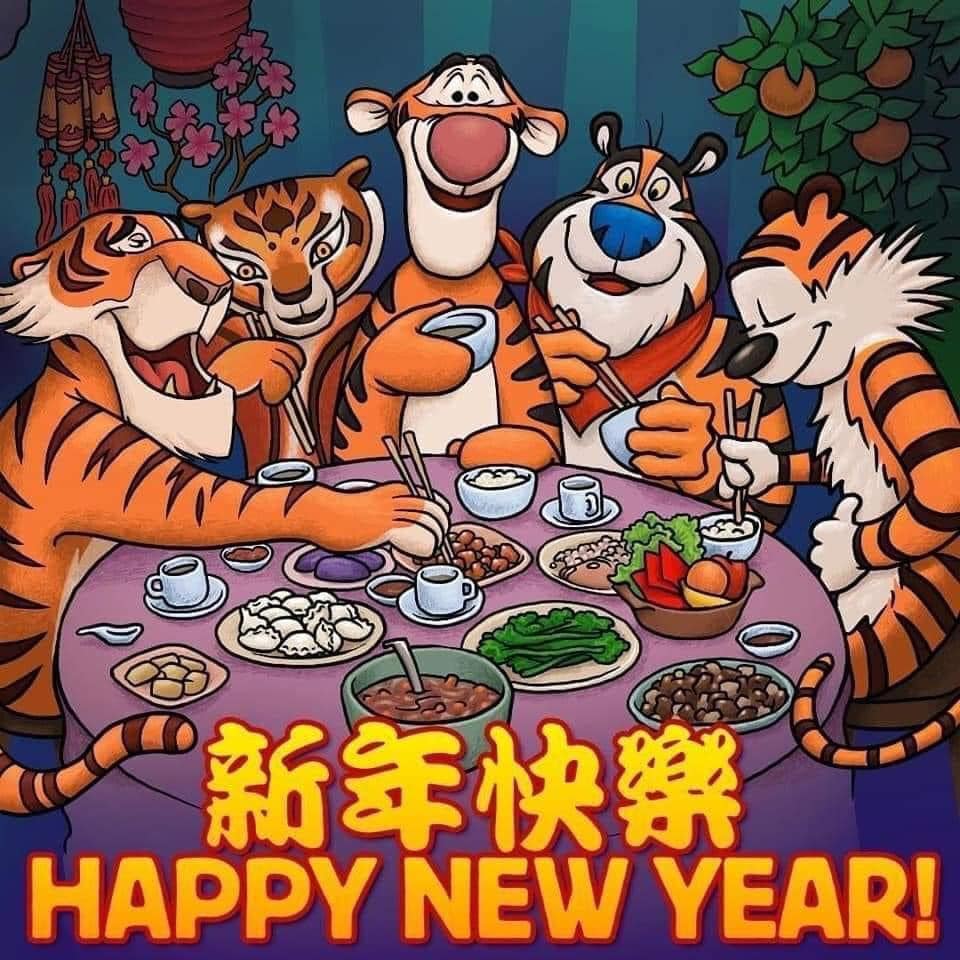 The Thing About Tiggers
It's the Year of the Tiger, the third of the 12-year cycle of animals which appear in the Chinese Zodiac.  According to 'Yahoo Life', the Zodiac dates to the Qin Dynasty over 2,000 years ago and is rooted in animal worship.
Tigers are known for their courage and ambition.   The Year of the Tiger is about making momentous changes.  A year of risk-taking and adventure lies ahead.  We're finding enthusiasm again, both for ourselves and for others.  Everyone is fired up; generosity is at an all-time high and social progress feels possible again.
I am not a Tiger, I'm a Pig.  Even though I'm not a Tiger, I have an infinity for furry felines.  It's rare to find me without a cat in my life.  Presently, we have two cats in the yard of our very, very, very fine house.   Did you know that Crosby, Stills and Nash have followed Neil Young's lead and have pulled their music from Spotify?
And I quote: "Until real action is taken to show that a concern for humanity must be balanced with commerce, we don't want our music – or the music we made together – to be on the same platform."  Because of Josh Rogan's podcast, Joni Mitchell, Nils Lofgren and India Arie followed suit too.
I know nothing of Rogan and I think that's a very good thing.  Anti-vaxxers boggle this mind.
"The wonderful thing about tiggers is tiggers are a wonderful thing!" – The Tigger Movie
One of my feline friends,  Frodo, had to go the vet this week.  He had been bitten in a cat fight and the wound in his front leg ballooned up with pus.  He was a brave boy as she shaved his fur, injected a painkiller and antibiotics, then syphoned out the pus.  He wasn't happy but he didn't complain about his shots nor ask what was in the injections he received.  Neither did I.    I trusted our Vet to give Frodo the best care she had been trained to give.  She followed the science.  And it worked.  One day later, he was walking without a limp.
All progression of mankind is based up scientific discovery.
Hey, did you hear the one about the woman who was an anti-vaxxer.  She wanted to travel so she decided to expose herself to people whom she knew had Covid so she would catch it.  She knew that having had it, her body at the right antibodies and she would be allowed to travel.  She caught it alright.  She died the following week.
Nobody ever said the vaccination would prevent getting sick.  Its aim was for us to become less sick.   I still haven't had the virus for which I'm rather amazed as I've traveled a lot this past year.  I have more travel ahead in the next few months – NYC, San Francisco, & Vancouver.
Supposedly crime is rampant in NYC now with the mentally ill, homeless throwing women on the tracks of the subway.  A friend of mine has moved out of NYC because of the crime and told me to be vigilant with my safety while I'm there.  As a consequence we switched our hotel from 32nd Street to West 54th in Midtown.  I won't be riding the subway.
In San Francisco, the Tenderloin has been overtaken by intravenous drug users.  The mayor has had enough.  She said going forward, drug users have two choices – rehab or jail.  Union Square and Fisherman's wharf are rife with criminals stealing cars.  Tourists with suitcases in their rental cars are an easy target.
Canada is overrun with truckers from the Freedom Convoy 2022.  They shut down the capital, Ottawa and traffic at the Alberta/US border is at a standstill.  Vancouver's Freedom Convoy Rally is scheduled for tomorrow.   They are fighting vaccine mandates.
From my perspective, the economies of the world cannot continue with restrictions to protect the anti-vaxxers.  We are all responsible for our choices.  If you choose not to get vaccinated there will be consequences.
We want our cities back.  We want our lives back.  We are living in tumultuous times.  You couldn't pay me enough to be a politician right now.  Boris is under fire for parties held in 2020.  Personally, I like the man.
I don't hear a good word about Trudeau.   Apparently he is standing left, left of Centre and he's far too woke.
According to Yahoo!news, 'What does woke mean?' was one of the most commonly asked questions last year. While it originally meant "becoming woken up or sensitive to issues of justice, its meaning has changed over time into a political slur.  'Woke warrior', 'wokerati' and 'woke worthies' are often used to insult people on the left, who are seen by conservatives as a threat to freedom of speech.
And President Biden, according to Newsweek, 65% of American thinks he isn't doing enough to address record-high levels of inflation.  52% of respondents believe his administration has made inflation worse.  His overall approval rating sits at just 44%.
I take it all with a grain of salt.  These men are stuck in between a rock and a hard place.  I can't imagine how stressful it must be leading a country through Covid.  Poor Boris had the double-whammy of the pandemic and Brexit.
My grandniece turned 5 years old last weekend.  Her mom sent me a video of her in Ballet class.  I know her heart was filled with joy as she worked the dance floor, twirling and spinning with gleeful abandon.  But I never saw her smile because her beautiful face was covered with a mask.  Almost half of her important formative years have been 'restricted due to Covid'.  I can't help but wonder what her generation will be like when they rule the world.
Let's hope this year's Tiger brings positive change for all of our sake.   Go Tiggers Go!