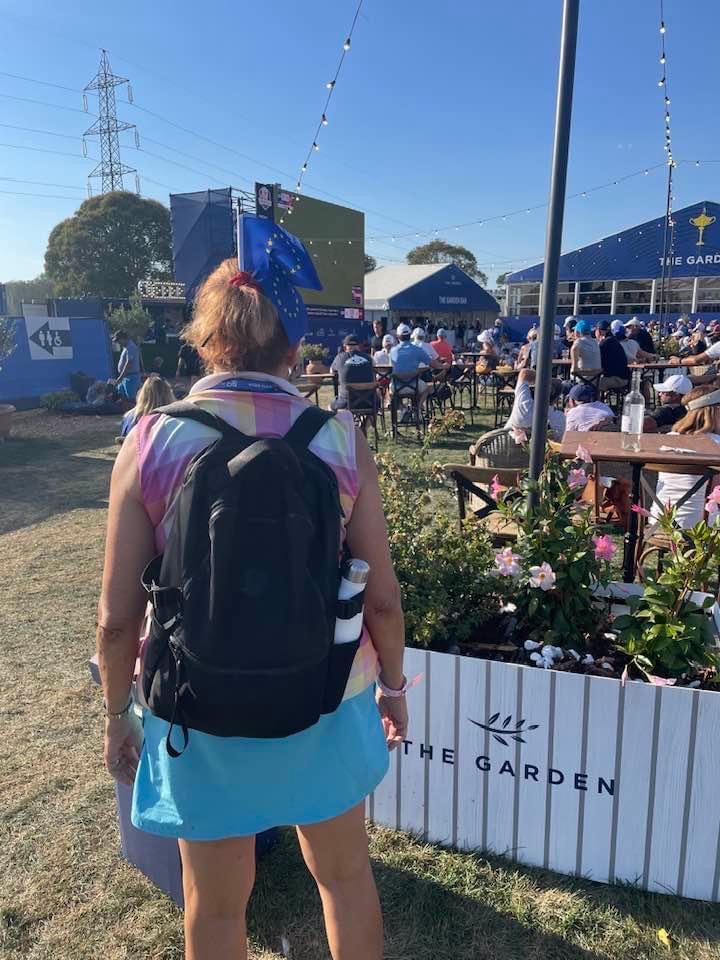 The Ryder Cup was FULL of Surprises!
Our 4th and final trip to Italy this year was to attend the Ryder Cup in Roma and watching the greatest golfers in Europe and the USA did not disappoint!  And I said, 'this year' because I will return to Italy time and again.  Quite simply, I love this country!
The Ryder Cup was last year's Christmas present from my husband Tony.  From our point of view, giving experiences is much more rewarding than giving stuff.  Travel nurtures the soul and expands perspective, empowering us.  For the curious, there is no better gift save an education because travel is an education onto itself.  Stretching our experience beyond the beach and the cocktail, travelling becomes an adventure and part of our DEEP LEARNING and can improve our mental health by rewiring our brain.
Synaptogenesis is the formation of new synapses in the brain that are the connecting point between our 100 billion brain cells.  You have trillions of synapses in your brain, and your brain cells communicate with one another across them. Like any other muscle the brain needs exercise to grow.  The good news is that we now know our brain is plastic and flexible and it can heal and recover from experiences that have clogged our brain.  You can change and improve it by removing what I like to call the 'murk of the mind'.  The person who spends timedeveloping flexibility of perspective wins because they can look at life objectively and not take things personally.  I haven't known many sticks in the mud who are happy.
I have been to two professional golf events.  One was a Skins Game featuring Greg Norman, Freddy 'Boom Boom' Couples, Nick Faldo and Jack Nicklaus who played at Jack's then newly designed course in Whistler, Nicklaus North.   Some 5-ish years later, I attended a PGA tournament at San Francisco's Olympic Club.  There I was blessed to witness Tiger Woods live; the speed and accuracy of his swing was magic.
What was awesome about these players was the despite the crowds, microphones, sound booms and television cameras of the media, these gentlemen played an amazing caliber of golf.  This is one sport that television doesn't do justice to.  The speed of Tiger's drive off the first tee was something to behold.
I expected more of the same at the Ryder Cup.  Boy, was I wrong.  The Ryder Cup was a party of 55,000+ people where there just so happened to be a golf tournament.  When arriving at the course every morning, we were greeted by high energy music being pumped out of speakers surrounding the entrance way that set the mood for the day.  Once inside the area, there was a large stage where singers performed before and after the day of golf.  Then there was the massive complex of merchandizing and yes, we succumbed to the 'merch'.  Across the way were countless picnic tables with umbrellas and a beer garden.  As you walked further towards the actual course, the food and beverage stalls, hospitality venues, BIG screens well positioned and countless port-a-loos sprang up everywhere.
We entered a chipping contest put on by Hilton Hotels that took place in a faux hotel room.  The challenge was to chip your balls into four targets being a bedside drawer, suitcase on the bed, an ice bucket, and a pet bed on the floor.  If you did this, you'd win two nights at a Hilton anywhere in the world.  Between my husband and I, we got one shot in, and it wasn't my ball.
Then there were the costumes.  Americans dressed as the Statue of Liberty, the Super Mario Brothers, President Lincoln, Vikings … essentially every combination of red, white, and blue that you can think of.  Chanting of USA, USA, USA could be heard everywhere especially when their boys won the hole.
The diverse European side were a joy to witness especially the Romans.   We saw a lot of men and women in togas, gladiators, kilts from Scotland, all types of clothing of blue with yellow stars, walking pizzas, French berets – a veritable feast of geography and history.  Despite Brexit, this weekend the Brits and Europe stood together in solidarity singing Ole Ole, Ole, Ole.
The first time I took Tony to a professional hockey game in Vancouver, he asked me, "Why isn't anybody singing?"  What an odd question I thought as organ music blasted through the arena followed by piped songs such as We Will Rock You, Get Ready for This, and the Blitzkrieg Bop.  After moving to the UK and attending my first professional rugby match in Paris, I understood.  On this side of the pond, it's all about singing at matches.  Don't get me started on the All-Black's Haka', at first it startled me, now I just love it.
The camaraderie at the Ryder Cup was outstanding regardless of where you were from.  Both sides of the pond appreciated the talent and skill of the players from every country represented and boy, we had fun!
Stand outs for me were Jon Rahm of Spain who showed us on not one, but three holes, that putting isn't necessary as he chipped in finishing with an Eagle to win the 18th on the final day.  We followed Rory McIlroy (from N. Ireland) for six holes on the final Sunday and witnessed some of the best golf I have ever seen.  I didn't realize he was Number Two in the world and rightly so.  And of course, there were some outstanding shots from the Americans.  Now that I live on this side of the pond, I was honouring my British citizenship given Canada wasn't represented.  If it had been a hockey tournament, things would have been different.  It really is a blessing being a dual passport holder in ways I never dreamed of.
For those of you who have worked with me or listened to my podcast will know the importance I place on focus.  One of the amazing things I realized learning NLP (Neuro Linguistic Programming) and Hypnotherapy is that unconscious mind doesn't know what's real or imagined.  Meaning if we focus on the objective, the dream, the goal with positivity and see it with detailed clarity, then it is achievable barring any unforeseen circumstance.  The focus of the professionals was exemplary proof of right thinking and a reminder for me where to put my energy right now.
Why should we care about our unconscious mind?  Beside controlling all the systems of our bodies such as breathing, pumping blood through our veins and so on, it communicates with emotions. If we imagine dreadful things, we will feel bad.  If we imagine good things, we will feel good.  It's that simple.  Of course, we will feel bad when nasty things happen to us.
 When a bullet is coming our way, we should feel fear.  It's that fear that will compel us to run.
And when good things happen, we should feel happy about it.  I'm sure Viktor Hovland (of Norway) was happier than a pig in poop when he got his hole in one on the 14th.   What I am saying here is that we need to be keenly aware of our self-talk and daydreaming to ensure we feed our mind with the fertilizer to grow joy in our lives, however we define it.
The pros at the Ryder Cup were an outstanding example of achieving a razor focus.  Despite all the hullabaloo, they rarely looked at the crowd keeping their attention at the task at hand, landing that ball into the hole with the fewest strokes as possible.
"If you hold a magnifying glass over a pile of dry leaves on the hottest day of the year with the sun shining overhead, nothing will happen…
…. as long as you keep moving the magnifying class.
But as soon as you hold the magnifying glass still and focus the rays of the sun on just one leaf, the whole pile of leaves will erupt into flames"
– Daniel Jacobs.