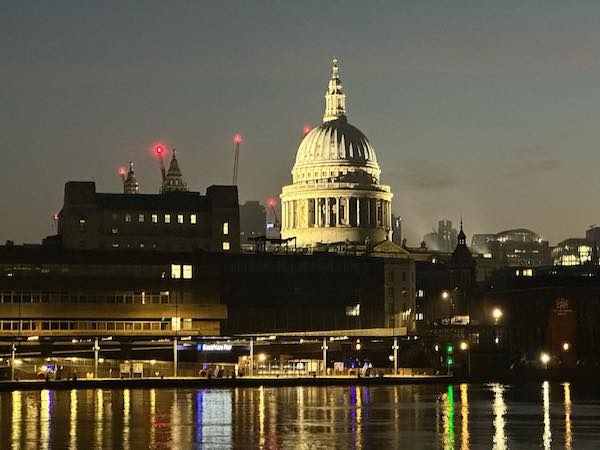 Deep Dive in London
The beginning of September took me to London, a city I've travelled to many times, possibly hundreds of times and lived there for a short while.  When I moved to Notting Hill some 17+ years ago, I never thought I would leave after only five months.  Astonishing how a marriage proposal can change the trajectory of our lives.
This month's blog is not about London per se, it's about a karmic cake of serendipity and family, iced in London's cosmopolitan glow with a cherry on top.  The cherry being St. Paul's Cathedral.
I never knew my cousins growing up.  Mom was an only child.  Dad died when I was five and his four siblings were scattered around in mid/eastern parts of Canada and the USA.  In 2018, I met my father's youngest sister's daughter, in other words, first cousin, Terri after we had corresponded for a time.  We met in London along with her daughter.  We enjoyed a lovely few days, touring Buckingham Palace, Kew Gardens, Fortnum & Mason, and eating in an authentic British pub (her request).
Thankfully, from Terri I have learned a great deal about my father's side of the family; more than my mother knew.
Terri's past was as challenging as mine, I thought.
Fast forward to this month, Terri and her sister Leigh planned a visit with me before they headed to Greece.  Their father was of Greek origin with a smattering of Turk and Armenian.  FYI, my father/their mother were of British and Scottish descent.  My mother was Finnish.  Rumour has it, we had a Gypsy princess in our bloodline.   Our ethnicity explains why there is little familial resemblance to one other, except that Terri has my father's green eyes.
We did find out that each other's lives were mired in dysfunction growing up as we took a "deep dive into the Seed Family", as Terri put it.  My maiden name being Seed, daughter of Corporal John Kenneth Seed of the Royal Canadian Air Force; he was Joe to his mates and Ken to his family.  He died of arteriosclerosis at age 45.  Leigh and I share a high cholesterol count.  Unfortunately, heart trouble is a Seed trait.
Turns out that both Terri and I have issues with anything electrical.  Crazy you say?  Google 'people who affect electronics' to learn more.  A dear friend of mine who is no longer with us, blew out streetlights as he walked under them in the evening.
There were no weird electronical issues during our visit that I knew of.  What was noticeable is that we share the same Seed sense of Geordie humor.  Geordies (from the Tyneside area of North East England for those who don't know) are skilled at turning even dark subjects into jokes.
The dysfunction that my cousins experienced was because their mother was living with mental illness, depression, and alcoholism.  Mine was because my father had died leaving my mother desperate, frightened, turning to the wrong men and alcoholism.  The choices made by two women in extreme pain did not serve their families well.
After our deep dive, I feel close to my first cousins and wish I had known them all my life.  Having like-minded women to support me on my journey would have been most welcome.  Yet, there is a reason we found each other later in life.
"Finding a cousin after so many years is a great blessing".  Leigh & Terri
In this September I found myself within the beautiful walls that is St. Paul's Cathedral with my cousins and my dear husband.  By the way, a shout out to Tony for whose support I am eternally grateful!  And for Tony, Terri & Leighs' company, I prayed silently, 'Thank you".
Later, we found ourselves at dinner in the Oxo Tower across the Thames admiring the Cathedrals' heavenliness whilst in the sky was half of what remained of the Blue Moon.
For four days we laughed, talked, compared notes, and saw some of London's wonder – St. Paul's, Thames River ferry ride, Hampton Court Palace, Covent Garden and Greenwich.  We saw Tina the Musical to pay tribute to a lady to be admired.  My husband organized our logistical needs, moving us from place to place with his gentle ease, giving us space to sing our Seed songs.
Out of the blue, on Facebook I noticed that an old work colleague of mine and Tony's was in Portsmouth, visiting from Canada.  He just happened to be going to Hampton Court Palace with his cousins for a car rally, the day we were scheduled to be there.  So, Tony & I had a good catch up with Craig over lunch while giving my cousins time to view the embroidery room for which my husband held no interest.  It turns out the Craig took my position in Vancouver when I moved to San Francisco all those years ago, a point I completely forgot about!
Decades of my life swept through my mind over this whirlwind of a weekend.  It was one of those 'wow look at me then and look at me now' moments.
Who knew that life would turn out this way!
For me, St. Paul's Cathedral has become a fond beacon of light.  I've visited her with great friends, Mark, and Judy, was serenaded by their Boys' Choir one Christmas Day with my husband Tony and witnessed her splendor inside and out with two delightful cousins, Terri & Leigh.  This amazing structure, the brainchild of Christopher Wren will remain a symbol of love and thankfulness always.